Fred D. Wilshusen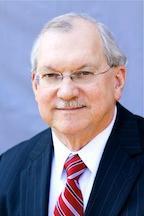 Fred
D.
Wilshusen
Location:
Dallas, Texas
Phone:
972-993-8242 (Direct)
214-369-3008 (Main)

Fax:
214-369-8393

Email:
Fred D. Wilshusen is a founding partner of Thomas, Feldman & Wilshusen, LLP and has practiced construction law for more than 35 years with an emphasis on construction and related business law and transactional matters. After graduating with honors from Texas Tech School of Law, he was a briefing clerk for the State Court of Appeals for the 5th Judicial District in Dallas, Texas.  Mr. Wilshusen represents clientele from all segments of the construction industry, and in doing so, has handled matters involving all types of construction law issues. Mr. Wilshusen regularly counsels clients in out-of-court resolution of disputes and litigates and arbitrates construction claims to final disposition. He has tried cases involving all types of construction disputes including payment claims, lien and bond claims, defective construction disputes, and delay and labor impact claims.
Additionally, Mr. Wilshusen provides a full range of services to clientele throughout the life cycle of their respective businesses.  Fred reviews and drafts construction contracts and represents clients in a wide array of business transactions including the formation of business entities, the purchase and sale of businesses, and the purchase, sale, and lease of commercial real estate.  
Mr. Wilshusen's qualities and expertise are recognized by his membership as a Fellow in the American College of Construction Lawyers, the membership of which is approximately 200 construction lawyers nationwide and is by invitation only. Mr. Wilshusen has held leadership positions in legal professional organizations such as the ABA Forum on Construction Law (former Governing Committee member), Texas State Bar Construction Law Section (Chair 2019-2020) and the Construction Law Section of the Dallas Bar Association (former Chair). He received the designation to Texas Super Lawyers for the area of Construction Litigation for the years 2013-2020. Additionally, he is recognized in the The Best Lawyers in America (Texas) for the years 2009-2020 and named Lawyer of the Year in 2020 for his high caliber of work in the practice area of Construction Law and the law firm has been named Best Law Firm (Tier 1 in Construction Law) from 2010-2020. 
Mr. Wilshusen is a member of the AAA Panel of Construction Arbitrators and also acts as a mediator of construction disputes. He is editor and author of leading publications in construction law and a frequent speaker regarding construction law issues.
Areas of Practice
Construction Law
Complex Litigation, Arbitration & Appeals
Corporate Transactions & Real Estate
Litigation Percentage
85% of Practice Devoted to Litigation and Arbitration
Bar Admissions
Texas, 1983
U.S. District Court Eastern District of Texas
U.S. District Court Northern District of Texas
U.S. District Court Southern District of Texas
U.S. District Court Western District of Texas
U.S. Court of Appeals 5th Circuit
Education
Texas Tech University School of Law

, Lubbock, Texas

Austin College

, Sherman, Texas
Published Works
The Rest of the Story: The Fascinating Backstories Behind Lonergan and Spearin (Co-Author)

, 14 The Construction Law Journal (Winter 2018)

Texas Lien and Bond Claims Handbook (Co-Author) 1st - 6th Ed., Supplement 2012

,

Construction & Design Law (Contributer)

, (2nd ed. American Bar Association 2009)

Construction Checklists: A Guide to Frequently Encountered Construction Issues (Co-Editor)

, ABA, 2008

Texas Construction Trust Fund Act and Bankruptcy Preferences (Co-Author)

, 1 The Construction Law Journal 43 (Winter 2003)

Fundamentals of Construction Law 1st Ed. (Co-Editor)

, ABA, 2001

Construction Law: Annual Survey of Texas Law (Co-Author)

, 44 S.W.L.J. 2101, 1990

How to Beat a No Damage for Delay Clause (Co-Author)

, 9 The Construction Lawyer, 17, 1989
Classes/Seminars
Lonergan: A Look Behind the Curtain; 32nd Annual Construction Law Conference, March 2019
The Art of Litigation: How Sun-Tzu's Teaching and the Disciplinary Rules of Professional Conduct Apply to Construction Disputes in Texas, 28th Annual Construction Law Conference, February 2015
Supplier Down, Supplier Down!!! The Fallout of a Major Material Supplier Repudiation or Insolvency, ABA Forum on Construction Law, 2014 Annual Meeting, April 2014
The Subcontract: With Emphasis on Key Clauses from the General Contractor's and Subcontractor's Perspectives, 24th Annual Construction Law Conference, November 2011
Cradle to Grave: Relation Back of Mechanic's Liens, Priority, Removeables, and Foreclosure; Construction Law Section, State Bar of Texas, February, 2010
Pleading and Proving Subcontractors Claims, Construction Law Section, State Bar of Texas, February, 2009
Subcontract Clauses: Finding Common Ground, 21st Annual Construction Law Conference, February 2008
The Texas Construction Trust Fund Act and Bankruptcy Preferences, Construction Law Section, State Bar of Texas, March 4, 2004 - March 5, 2004
Construction Dilemmas: Caught Between the Rock and a Hard Place, ABA Forum on Construction Law Midwinter Meeting (Program Liaison), January 29, 2004
After the Dance: Substantial Completion and Beyond, ABA Forum on the Construction Industry (Program Co-Chair), April 18, 2002 - April 19, 2002
Anticipating, Responding to and Litigating the Catastrophic Construction Failure, ABA Forum on the Construction Industry, April 26, 2001 - April 28, 2001
Picking Up the Pieces-Catastrophic Failures, ABA Forum on the Construction Industry, April 26, 2001
Tricks and Traps in the Mechanic's Lien Laws, Construction Law Section, State Bar of Texas, March 8, 2001 - March 9, 2001
Going to the Mattresses: Coverage Wars with Insurers in Construction Defect Cases, ABA Forum on the Construction Industry, May 4, 2000 - May 5, 2000
Advanced Project Delivery Systems, ABA Forum on the Construction Industry (Program Co-Chair), October 16, 1998 - October 17, 1998
Construction Claim Issues, State Bar of Texas Construction Law Section Annual Meeting, June 26, 1992
Honors and Awards
Fellow - American College of Construction Lawyers

Texas Super Lawyers (Construction Litigation) 2013-2020

Best Lawyers in America (Texas) - Construction Law 2009-2020

Lawyer of the Year in Construction Law for Dallas-Fort Worth 2020

Order of the Coif

Phi Kappa Phi

Who's Who Legal-Construction, 2013-2019

Martindale-Hubbell AV Preeminent® rating
Professional Associations and Memberships
American Bar Association Forum on Construction Law, former Governing Committee Member

State Bar of Texas, Construction Law Section, 2019-2020 Chair

State Bar of Texas, Construction Law Foundation of Texas, 2019-2020 President

Dallas Bar Association, Construction Law Section, former Chair

Construction Education Foundation of North Texas, Board Member

American Subcontractors Association-North Texas Chapter, Counsel

Texas Construction Association, Counsel

AAA Panel of Construction Arbitrators